ikeyfob.com will cut your Acura MDX key if you are in Maryland, Virginia and Washington DC. 

2001-2002-2003-2004-2005-2006 Acura MDX Key & Remote
---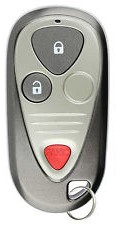 Acura Remote 3 Button
Programming Included
---

Honda HD106-PT Transponder Key 
 Cutting and Programming Included

$49.99

---
Acura/MDX
is a wildly popular three-row seven-passenger luxury mid size crossover SUV. More than 900,000 have sold in the United States since its introduction in 2001. Built on the Honda Pilot platform, MDX features front wheel drive standard or optional all wheel drive, V6 engine and automatic transmission.
The first generation (2001-2006) used Honda Type 2B or 3 keyed ignition system. It was among the first vehicles in the US to use anti-theft transponder technology. The transponder key used was (Ilco part number HD106-PT), which was embedded with the Megamos (13) Fixed Code chip.  The non-transponder service key was (Ilco part number HD103).
MDX (2007-2013) has Honda Type 7 or Type 8 Keyed Ignition Systems. Both types use Philips 46 (V) chip high security sidewinder transponder ignition and door key. The Ilco part number is HO03-PT. The Service Key part number is HO01SVC.  Additional keys can be programmed for (2001-2013) MDX with a diagnostic or cloning tool. When a diagnostic tool is used all existing keys must be present during the programming procedure. Working keys not present will be erased from memory and will not start the vehicle after the programming procedure.
MDX (2014-2018) utilizes a smart prox key fob (Part#72147-TZ5-A01 or 72147-TZ5-A11 FCC ID KR5V1X) with a high security laser emergency key.
MDX (2018-2018) utilizes a smart prox key fob (Part #72147-TZ6-A01 or 72147-TZ6-A11 FCC ID KR537924100) with a high security laser emergency key. Key fobs can be programmed with a diagnostic tool. A special laser key machine is needed to duplicate the concealed emergency key. The key code series is K001-N718.
ikeyfob.com can duplicate transponder keys,  key and remote combos, prox and smart keys. Located in Chillum Shopping Center in Hyattsville MD, ikeyfob.com is just minutes from Washington DC and College Park.

---
 ikeyfob.com  Respect the key!