ikeyfob.com will cut and program an Acura RSX key for you in Silver Spring, Colesville, Kensington and Laurel.
2002 2003 2004 2005 2006 Acura RSX Key and Remote
---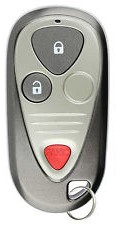 Acura Remote 3 Button
Programming Included
---

Honda HD106-PT Transponder Key 
 Cutting and Programming Included

$49.99

---
Acura/RSX    is a sports car coupe manufactured in Japan from 2002 until 2006. 130,000 were sold in the states. The transmissions offered were: five speed automatic, five manual and six-speed manual. Under the hood are 160 to 200 horses, depending on the engine. Reliability, high safety rating and great resale made RSX competitive with cars in its class. The 2003 Acura RSX made Car and Driver's top 10 list.
Legend and Integra were the first two models offered by Acura to compete in the US luxury auto market in 1986. At one point Legend and Integra had greater name recognition than Acura. The name was changed from Integra to RSX in 2002 in an effort to improve Acura's name recognition.
(2002-2006) RSX used Honda Type 3 keyed ignition system. RSXs were among the first cars in the US to use anti-theft transponder technology. The transponder key used was (Ilco part number HD106-PT), which was embedded with the Megamos (13) Fixed Code chip. The non-transponder service key was (Ilco part number HD103). The key code series is 5001-8442. A separate keyless entry 3 button remote (FCC ID: OUCG8D-366H-A) is available.
ikeyfob.com made a transponder key,  key fob, key/remote combo, prox key fob, smart key fob. Located in Chillum Shopping Center in Hyattsville MD, ikeyfob.com is near Silver Spring, and Colesville.
---
 ikeyfob.com  Respect the key!